News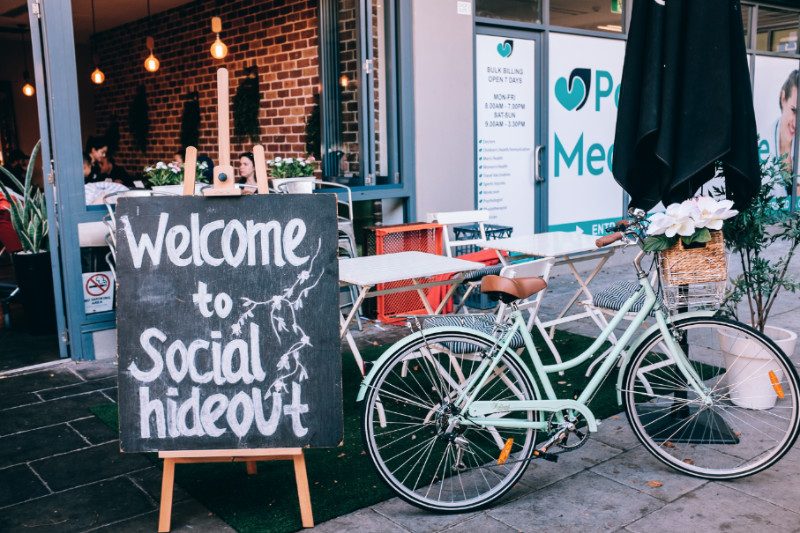 Hidden Gems: Social Hideout
Next time you're in Parramatta, If you find yourself walking through Church St, onto Victoria Rd and into Social Hideout by pure luck, you're in for a treat.
Social Hideout's secluded courtyard full of sunlight, greenery and chilled vibes is the perfect setting to kick back and enjoy a meal away from big crowds of people.
There is a stack of variety here with your typical brekkie/brunch/lunch eats and the bevvy menu is no different – hot, cold, healthy or treat-yo-self options are aplenty! Whatever you're in the mood for, this place has you covered.
We headed over to Social Hideout recently to take on the hideous task of testing out their menu, here's our verdict:
Starting out with a creamy 'Red Velvet Latte' was a delish option and was literally like a liquid cupcake. It's the drink that you never knew you needed froth.
We opted for the 'Bad Boy Burger' and the Aussie classic 'Smashed Avo' this time around. For those who know what they want and how they like it, the 'Bad Boy Burger' is the perfect, no fuss option. Oozing out gooey cheese over crumbed chicken with tomato, bacon and aioli, all on a mouth-watering milk bun with some good 'ol chippies on the side! You can't go wrong, and boy was it oh-so satisfying!
The 'Avocado Smash' came paired with fresh tomatoes, fetta, perfect poached eggs, bacon (optional) and zesty lemon drizzled over the top. JUST LOOK AT THAT YOLK! We thoroughly enjoy a good smashed avo and this one is a melt in your mouth dream!
We also indulged with a 'Morning Glory' cold pressed juice – mango, peach and passionfruit deliciousness! If you're a non-coffee drinker, their selection of cold-pressed juices are sure to quench your thirst.
While Social Hideout may be a 'destination café', that's one of the reasons why we think it's great! The staff are friendly and always happy to chat, the food portions are generous, the menu is flexible (and totally Instagrammable) with options for everyone and all at a very reasonable price - $15 - $20.
It's green and white garden décor gives it a relaxed vibe and makes it an easy decision for those who are after more of a breezy café style affair. We will 100% be going again, and suggest you also put it on your must-visit list.