News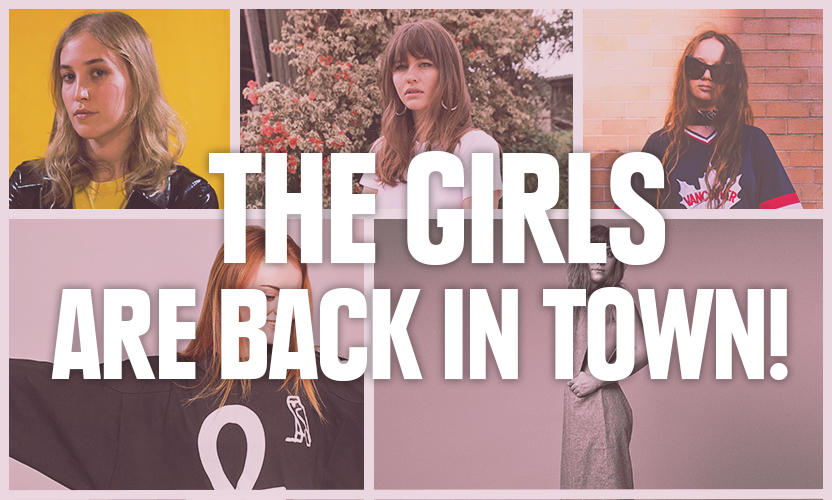 The Girls Are Back in Town Pt. 2
Welcome to another instalment of The Girls Are Back In Town, where we give you the lowdown on each of our PLOT certified female legends, highlighting their amazing talents and why they're all MUST SEE acts this November!
Prep your ears and put your hands together, let's hear it for the girls!

HATCHIE
Shoegazey with a dream-pop edge is one of the many ways to describe Brisbane's Hatchie, Harriette Pilbeam. She's a workaholic and juggles a day job at a café, as well as writing and recording for two musical projects – HATCHIE and her band Babaganouji. Her influences stem from the likes of Scottish band Cocteau Twins to Sky Ferreira, Kylie Minogue and Carly Ray Jepsen. Her first release 'Try' is uplifting with a soaring chorus that gets stuck in your head immediately.
She's not 'try'ing to be anything else. She's making fun music and we can't wait to boogie like it's the 80's when she hits the stage at Parra Park!

MADDY JANE
Tassie ledge Maddy Jane writes songs that you immediately want to sing along to. Her latest single 'No Other Way' sums up her sound perfectly, gaining comparisons to an influence of her own, Courtney Barnett. She's supported the likes of Tash Sultana, Polish Club and is about to do a national support tour with none other than Harry Styles :O
She's more than just a talented musician, earlier this year, she organised and hosted her first independent festival 'The Bruny Bash' at her parents winery on Bruny Island where she grew up. It was a huge success and will now be run as an annual event.

MALLRAT
The self-confessed Hannah Montana of the rap game has quickly matured into one of Sydney's most promising up and coming artists, having toured with one of her biggest influences Allday, to performing at a myriad of festivals. She's kicked quite a few goals this year from signing an international label deal, to having her song 'For Real' featuring on a Google ad (huge!) and releasing her latest single 'Better' with a national tour to boot! She's a star and you'll only be seeing more of her. Last year she opened one of the stages at THE PLOT and we're excited to welcome her back once again - with a later time slot! Don't miss the opportunity to see her up close because she's on track for world domination.

NINAJIRACHI
Cenny coast local Nina Wilson got her name NinaJirachi from Pokemon and is an avid gamer herself! She's had a busy couple of years - Graduating high school, being a finalist in triple j's Unearthed High comp in 2016 and 2017, and having her breakout single 'Pure Luck' featured on Zane Lowe's Beats 1 UK Radio show! Her remixes of Kilter's 'Waste Time' and Flight Facilities 'Arty Boy' have put her at the top of everyone's list we can't wait for her to blast her electro goodness at THE PLOT in November!

SLOAN PETERSON
Brissy raised, Sydney-based Joe Jackson is influenced by everything from Elvis to Wanda Jackson, Nancy Sinatra, Bowie and it comes as no surprise! Joe first came onto the scene with her DIY band Black Zeroes and her Sloan Peterson identity is a natural extension of their tunes. She's got a great sense of fashion, rocking throwback 70's clothing as timelessly as her bold songwriting. If her debut EP 'Midnight Love' is anything to go by, she's got a full-fledged album in the works and we cannot wait to watch Sloan Peterson explode over the next year!
We've still got more girls to highlight for you, so stay tuned as we continue to cover all of our amazing talent before they hit THE PLOT on November 18!
#YTG