News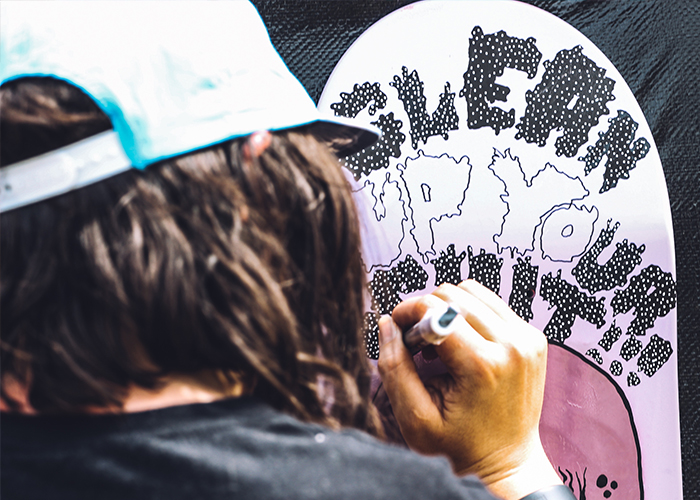 Decks for Change Is Back!
We couldn't be more thrilled to welcome our friends from Decks For Change back to THE PLOT 2017!
Decks For Change uses skateboarding and design as a medium to communicate complex issues and create a discussion around these at their events. If you were at THE PLOT last year, you will remember seeing a bunch of talented artists painting their decks throughout the day along the fence line, each with their own take on an important message. These decks were later auctioned off for charity, and boy did they fly off the shelves!
This year, DFC will be bringing with them over 10 artists - some returning, some new - to paint their decks live once again! However, this year, the auction will take place THROUGHOUT the day at THE PLOT, closing at 6pm! If you see a deck you fancy, make sure you find the DFC representative and place your bid before it's too late! (Hot Tip: They make a great Christmas present!) All proceeds from the auction will again be going directly to skateboarding initiatives in developing countries.
Here's more deets on how the auction process will work: You can place a bid at any point throughout the day. The auction will close at 6pm. Place your bid with the Decks For Change representative, who will record your name, address and mobile number (so they can contact you if you win!) Once the auction ends, the successful winner will receive a text message from DFC with all the deets on how to make payments and the collection process You will need to pay before you can collect the board You will be able to leave your board at THE PLOT SHOP until you are ready to leave the event If you cannot make full payment on the day, or are unable to take the board home that night, just liaise with the DFC representative to make alternative arrangements
So make sure you check out the Decks For Change set up at THE PLOT and score yourself some one-of-a-kind art, all while donating to a very worthy cause!