News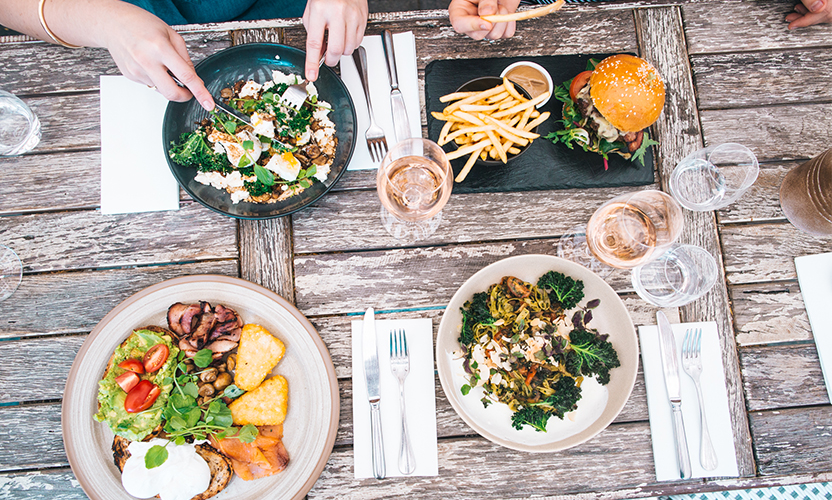 Hidden Gems: The Emporium
Afternoons were made to hang out at a place like The Emporium. Step out of work on your break, or come together with friends and you'll feel like you're on the other side of the world sipping on a coffee (or wine – highly recommended) doing some people watching in the casual outdoor seating area. Their menu boasts modern Australian cuisine with Mediterranean influences, and it's not hard to tell!
So if you're all about the atmosphere and are after something a little more on the fancy side, The Emporium is consistently excellent, no matter what time of the day you visit.
After a short walk from the station onto Phillip street, we opted for a seasonal spring late lunch, the first of many ;) Here are our thoughts:
A variety to suit all tastes, featuring Rosè because wine not! Mushrooms & Kale (Top left), Wagyu Beef Burger (Top right), Emporium Brekky (Bottom left), Tagliatelle (Bottom right)
Diving straight into the menu, it's simple and not overwhelming for you indecisive eaters. Simple but light and full of flavour, the Mushrooms & Kale with poached egg and feta is a delightful and healthy option, especially on a hot day like this one.
The Wagyu Beef Burger is your standard go-to option if you're after something simple, familiar and ridiculously delish. Grab your knife cut this bad boy in half (you'll need to, it's pretty huge!) and get around the mouth-watering mix of bacon, cheddar, lettuce, tomato, chipotle mayo, Dijon on a sesame seed bun + some good ol' chippies.
We went from lunch, then back to breakfast because who doesn't love all day brekky? 'Emporium Brekky' with eggs, both smoked salmon and bacon, crushed avo, hashies and mushrooms. Let that sink in for a second. If your eyes are as big as your belly, jump in and taste the closest feeling to being in actual heaven. Ridiculously filling and reasonably priced at just over $20!
The Homemade Tagliatelle pasta featuring pesto, tomato, mushrooms, ricotta cream, fried kale, almonds was light, fluffy and super tasty! You also have the option to add in chicken, garlic prawns or crispy pancetta! YUM.
We accompanied our meal with an amazing French Rosè – Chateau Riotor Cote Du Provence and it'll make any day in the sun feel like a European Summer holiday, seriously!
Even though The Emporium resembles a Two story Italian villa, it's more than just a pretty face. We only sat in the outdoor seating area, but inside boasts a restaurant, bar, bakery and coffee roaster! They have a killer playlist of tunes, prompt service and a simple but delicious menu. It's affordable and a great balance between a casual and fancy option for your next outing, so next time you're in Parra, keep The Emporium high on your list.